Stardew Valley is well-known for its fun games and cute characters, but it's also a great source of funny dialogue. Each character has their own funny habits and talks that make you wonder how you got into such crazy situations.
This game has a lot of funny parts, like when Abigail eats rocks like they're fancy food and Maru slurps down BBQ sauce with a gusto that can't be beat. So put on your overalls and get ready to hear nine of the funniest lines in Stardew Valley. Get ready to laugh your guts out.
"You Always Look Great, Even After Slopping Around In The Yard All Day."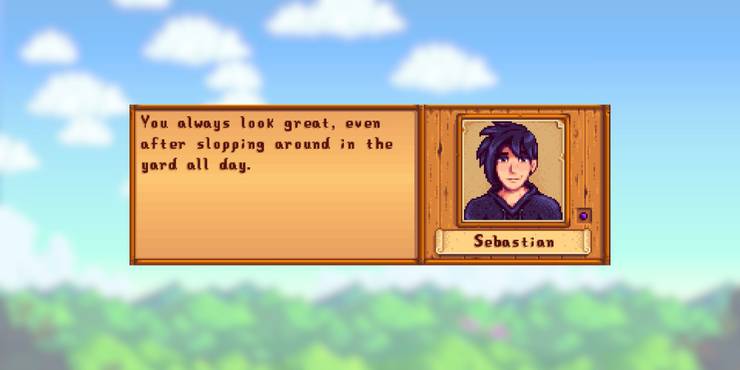 If you're married to Sebastian and lucky enough, you might get one or two backhanded compliments from time to time. He says that your work on the farm is just "slopping around." Well, you'll have to forgive us if we're not as graceful as a deer when we're taking care of our crops.
Sebastian's unique brand of sarcasm adds a bit of humor to the relationship and tells us that even in virtual marriages, a healthy dose of playful banter keeps things interesting. Still, we might be a little upset.
"Well, I'd Better Go. George Gets Grumpy If He Doesn't Have His Oatmeal On Time…"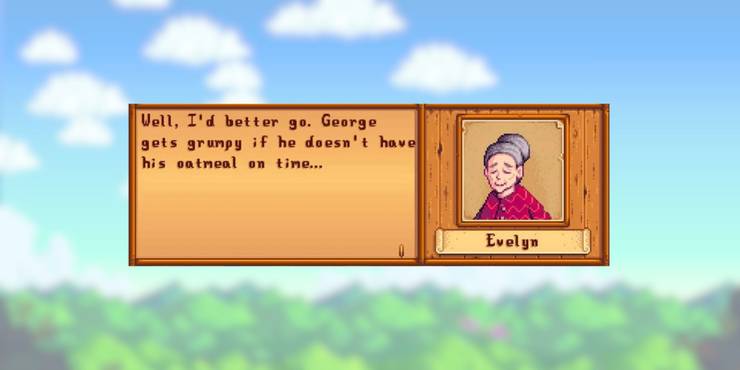 If you ran into Evelyn at the wrong time, you might have heard her say that she had to run away and give George his cereal right away. Why? Because George gets cranky if he doesn't get his food. We can't help but feel sorry for George. After all, who hasn't felt the anger of being cranky because they were hungry?
Evelyn's hard work to feed her partner is both sweet and understandable. It's a warning that breakfast is the most important meal of the day, even in Stardew Valley.
"Hey, How'd You Know I Was Hungry? This Looks Delicious!"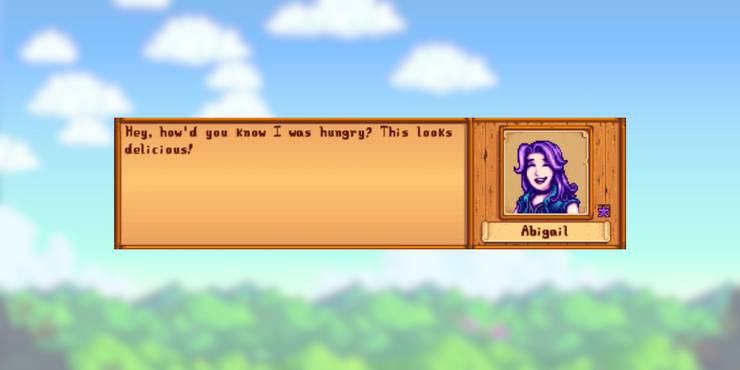 When you give Abigail a diamond or jade as a gift, she can't help but say how tasty it is. Fans of the show think this is a strange thing to happen. Does… Abigail eat rocks? We all know that diamonds are a girl's best friend, but who knew that in Pelican Town they are also a tasty treat?
Maybe Abigail has found a secret diet based on gemstones that we haven't heard about yet. One thing is certain: her taste buds are just as unique as she is.
"*Slurp* Mmm… This Barbecue Sauce Is Amazing."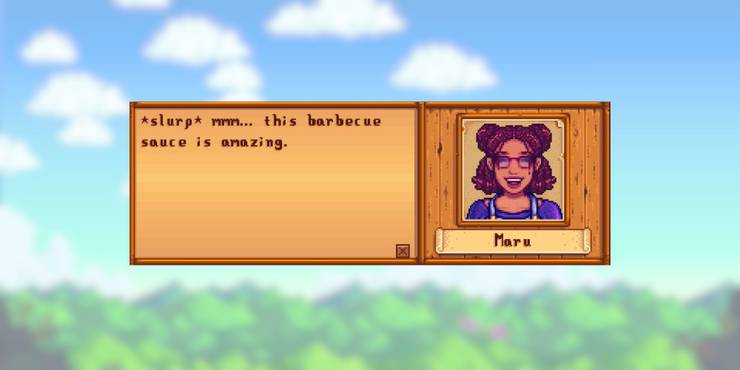 Everyone is enjoying some delicious fall foods at the fall fair. But in the middle of all the food, you see Maru "slurping up" barbecue sauce. You did read that correctly! While most people are enjoying traditional fall foods, Maru has decided to do something new and enjoy the tangy goodness of barbecue sauce by itself.
Who needs a burger when a jar of sauce will do? Maru's strange tastes in food are sure to make people look at her funny and make them laugh.
"Have You Met Everyone In Town Yet? That Sounds Exhausting."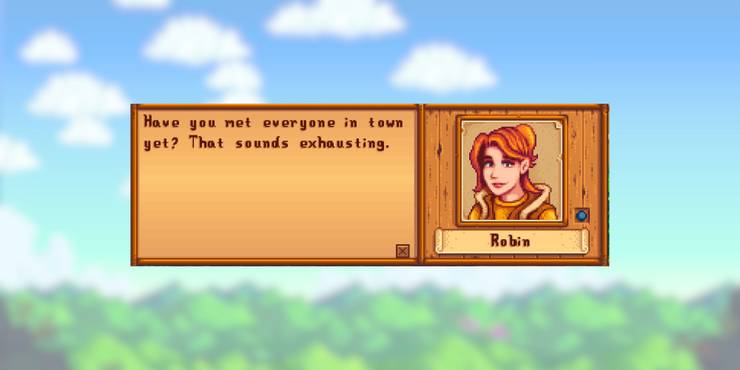 At the start of your game, Robin says in a casual way that meeting everyone in town "sounds exhausting." She has no idea how much of an underestimate she is making. As you start your quest to make friends with everyone in the town, you find out how hard it is to finish the Introduction Quest.
After days of walking around, meeting new people, and making small talk with the locals, you might feel like a social butterfly about to burst. Robin's casual remark ends up being a funny reminder of how hard it was for him to earn everyone's love in Pelican Town.
"Would You Do Me A Kindness And Clean Up My House?"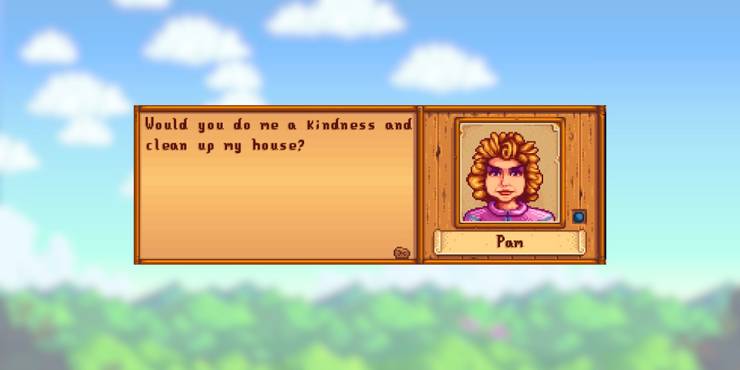 Pam, who drives the town's bus with courage, might ask you to clean up her house. Oh, really? Shouldn't she be the one who cleans up after herself? Well, it looks like not. Pam asks you to help her with her housework, which is a shocking turn of events. It shows that you are a helpful and valued part of the community, but it also makes you think about how far you should go to help your neighbors. Are you just a farmer, or do you also clean for a living?
Still, helping Pam with her housework is a surprising change to your usual farming routine, and it shows how different requests can be in Stardew Valley. Hey, at least she's being nice!
"You!!! Was That Some Kind Of Sick Prank?! Those Are Very Private!"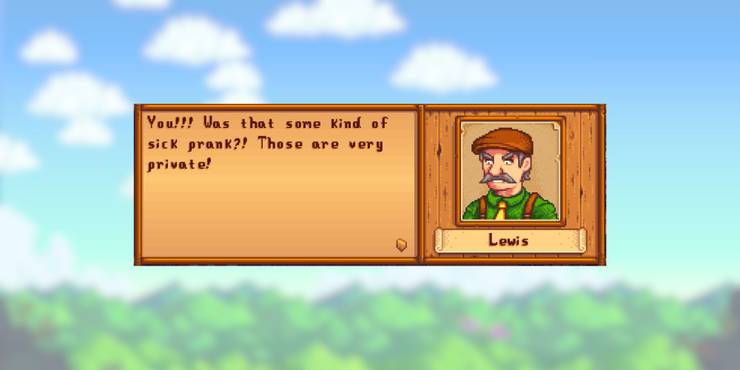 You found Lewis' purple shorts in Marnie's room. Put them on show in the grange, and get ready for some funny talk. The mayor, who is usually calm and dignified, can't help but have a strong response. When he sees the shorts, he says, "Sick prank!"
His excited reaction to the sudden appearance of his purple shorts shows that even the most decent people in town have strange habits and secrets they don't talk about. It's a silly moment that makes the usually serious Lewis a little bit funny. It's a pretty sly surprise.
"I've Had This Recurring Nightmare That You Gave Me A Buzz Cut… You Wouldn't Ever Do That To Me, Would You?"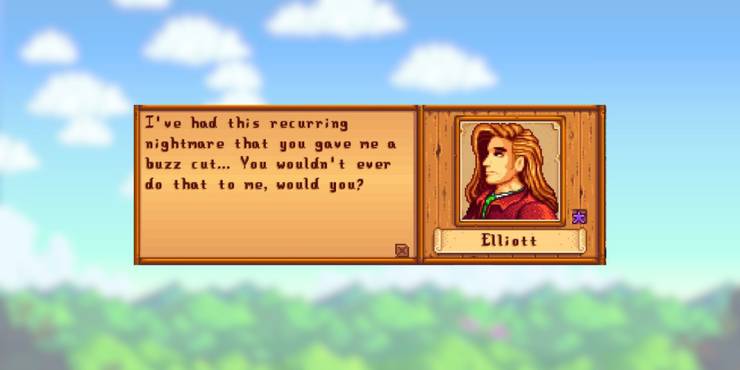 Ah, Elliot, the dreamy artist, with his long, golden hair and romantic personality. But wait, he keeps having dreams that you cut his hair short? It's a good worry, since his hair is so beautiful it's almost a work of art. We can't help but laugh at how silly everything is. Who would mess with Elliot's beautiful hair?
It shows how well thought out Geometry Dash World is and how it can create funny situations even within the limits of a virtual friendship.
"I Guess… If I Had Some Pants I Might've Gone Outside Today… But, Nah."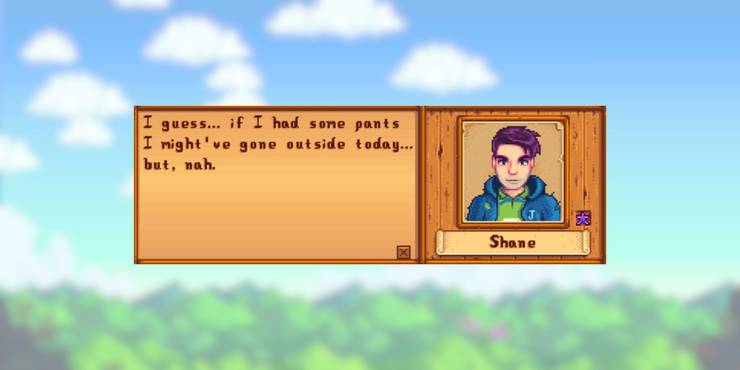 Shane is the last character. He is a nice farmer who is always sad. If you marry him, he might be sad and say, "I could have gone outside today if I had pants." Oh, how hard it is to find clean pants! Everyone has been there, right?
When life throws us a curveball, even easy things like putting on a clean pair of pants can seem impossible. But, hey, let's not be too hard on Shane. In the end, being lazy is a skill that many of us want to learn. Who needs pants when you can just stay home and enjoy the farmhouse?