Individuals of all ages across the globe love ice cream as a favourite pleasure. Possessing an ice cream machine at home enables you to make delectable frozen treats that are customised to your tastes, whether you like traditional vanilla or are more adventurous with unusual flavours. To satisfy the requirements of restaurants & foodservice companies, catering equipment suppliers provide a broad selection of high-quality kitchen tools and appliances.
Even while operating an ice cream maker may at first appear frightening, it's a really easy operation that will render your life more enjoyable. This in-depth manual will help you through every stage of using an ice cream maker for everyday use, from picking the best one to making your favourite frozen delicacies.
Selecting the Best Ice Cream Maker
It's crucial to choose the ideal ice cream machine for your requirements before starting the business. Ice cream makers come in two primary categories: manual (or hand-cranked) and electric.
Manual Ice Cream Machines:
The combination of ice cream and milk in these devices must be churned manually, frequently by turning a hand crank. They don't need energy and are usually more inexpensive. Excellent for individuals who like a more manual, conventional method of creating ice cream.
Electric Ice Cream Machines:
Electric machines automate the churning procedure and are driven by electricity. Compared to manual machines, they are more practical and labor-saving. They are offered in a range of capacities and sizes, making them ideal for various home requirements.  You're ready to begin the business once you've decided which kind of ice cream maker best meets your interests.
How to Use Your Ice Cream Maker
An instruction manual for using an electric ice cream maker regularly is provided below:
Step 1: Freeze the Machine Bowl Beforehand
The removable freezer bowl provided by most electric ice cream makers has to be pre-frozen to be used. For the suggested duration of time noted in your machine's directions, place the bowl in the freezer. This usually happens between 12 and 24 hours before manufacturing ice cream.
Step 2: Prepare the Ice Cream Mixture
Create your ice cream mixture whilst the bowl is freezing. It is possible to make this recipe with a classic custard basis or with a simpler base made with heavy cream, milk, sugar, and additional flavourings (fruit puree, chocolate powder, etc.). Make sure that the mix is thoroughly cold before continuing.
Step 3: Put the Machine Together
Once the freezer bowl is sufficiently frozen, take it out of the freezer and put your ice cream maker together as directed by the manufacturer. Usually, this entails connecting the churn and setting it inside the apparatus.
Step 4: Start the Device
Your electric ice cream maker should be plugged in and turned on. Certain models might have different options for preparing gelato, sorbet, or ice cream. Choose the option that is best for your recipe.
Step 5: Add The Mixture
Carefully pour the ice cream mix into the freezer bowl via the machine's lid opening while it is operating.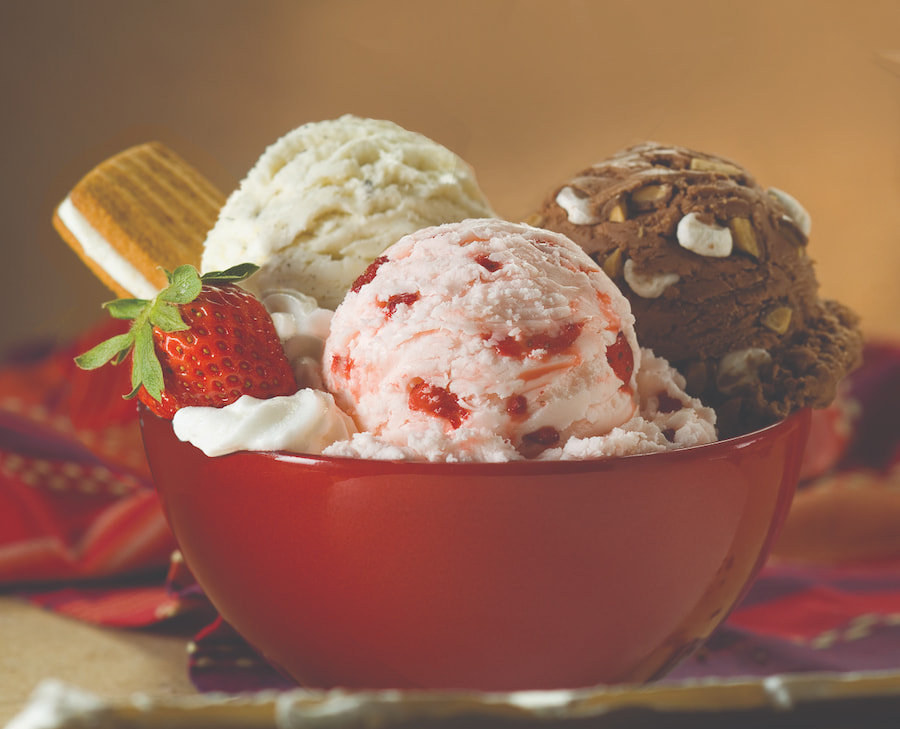 Step 6: Keep an Eye on the Churning
The suggested time to churn the batter in the machine is typically 20 to 30 minutes. As the container comes into contact with the cold freezer bowl throughout this period, the mixture begins to thicken and freeze.
Step 7: Optionally, Add Mix-Ins
Throughout the last few minutes of churning, you can add mix-ins like chocolate chips, almonds, or cookie pieces. The mix-ins are going to be dispersed evenly across the ice cream by the machine. The mix-ins are dispersed evenly across the ice cream by the machine.
Step 8: Check for Consistency
The ice cream will eventually develop a soft-serve smoothness as it thickens. If you would like something more velvety at this point, stop the machine. Move the churned ice cream to an airtight container & freeze it for a further 2-4 hours, or until its texture is solid enough, for your preference.
Step 9: Enjoy and Serve
Your ice cream is prepared to serve once it reaches the proper consistency. Scoop your handmade delicacy into bowls or cones and devour it.
Step 10: Clean and Store the Machine
After enjoying your ice cream, shut off and unplug the machine. To clean the parts, dismantle them according to the manufacturer's instructions. When putting the machine away, wash and completely dry any removable parts.
Troubleshooting Typical Problems
Even though using an ice cream maker is typically simple, you could run across a few common issues. Here is how to respond to them:
Ice Cream Doesn't Freeze:
A freezer bowl which hasn't been sufficiently pre-frozen may be the cause of the ice cream mixture's failure
Also, read this: O-talewda ice cream |step by step guide