In Destiny 2, rocket weapons are one of the most popular ways to deal damage to bosses. Here are the rocket guns you should get right away.
Even though linear fusion weapons like Stormchaser and Cataclysmic are more popular, rocket launchers are still a good choice for boss damage in Destiny 2. Because not all bosses in the game are good for straight fusion damage, every PVE player should keep a few good rocket launchers in their vault in case it rains.
In PVP, rocket launchers can also be a good choice. However, keep in mind that the Gjallarhorn has been nerfed since Solstice 2022, making it less useful. This list will focus mostly on PVE situations, where rocket launchers are still a mainstay for dealing a lot of damage quickly. Here, without further ado, are the best rocket weapons in Destiny 2.
Deathbringer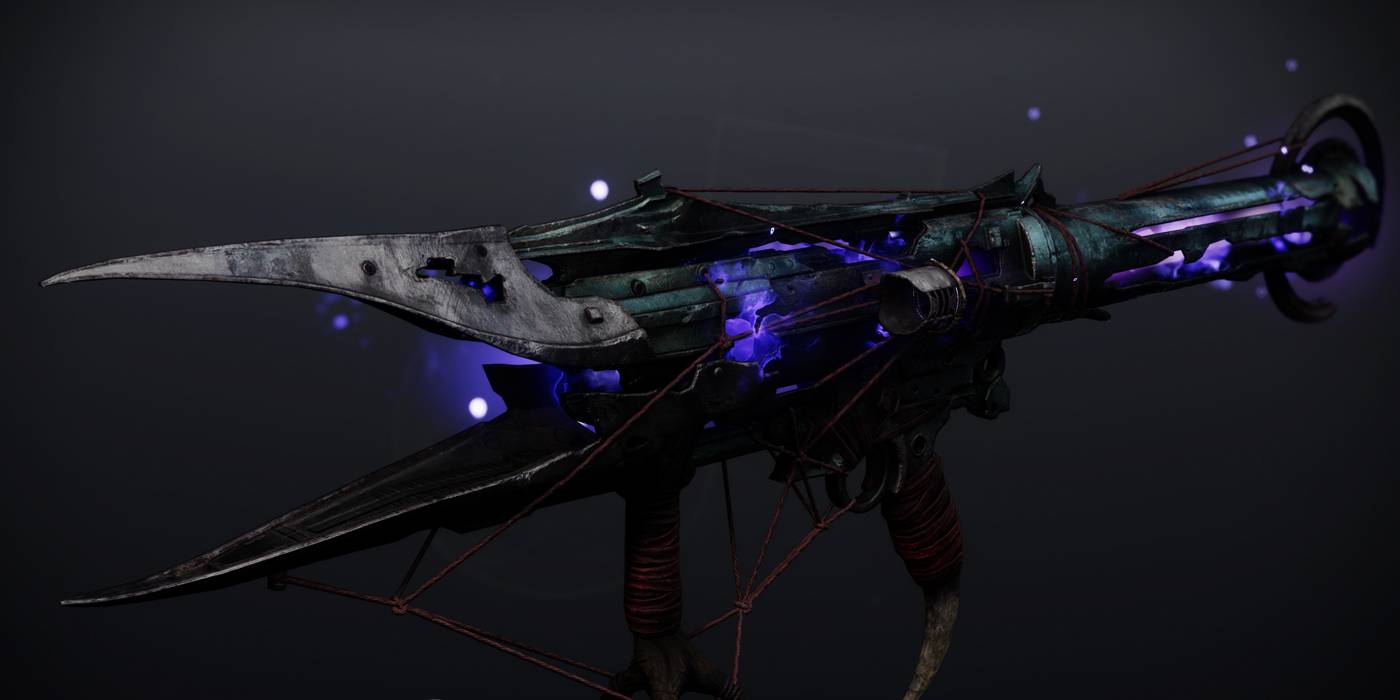 Deathbringer has its own quest in the Shadowkeep DLC, which players can get to after finishing the main story of the expansion. Getting it can be a bit of a grind, but it's one of the most interesting Exotic rocket weapons that isn't Gjallarhorn.
This Void rocket launcher has more than one shot that can be fired and then let go, just like a grenade launcher. This means that players can control when these Void orbs explode on other players, which is especially dangerous for smart PVP players.
The Blowout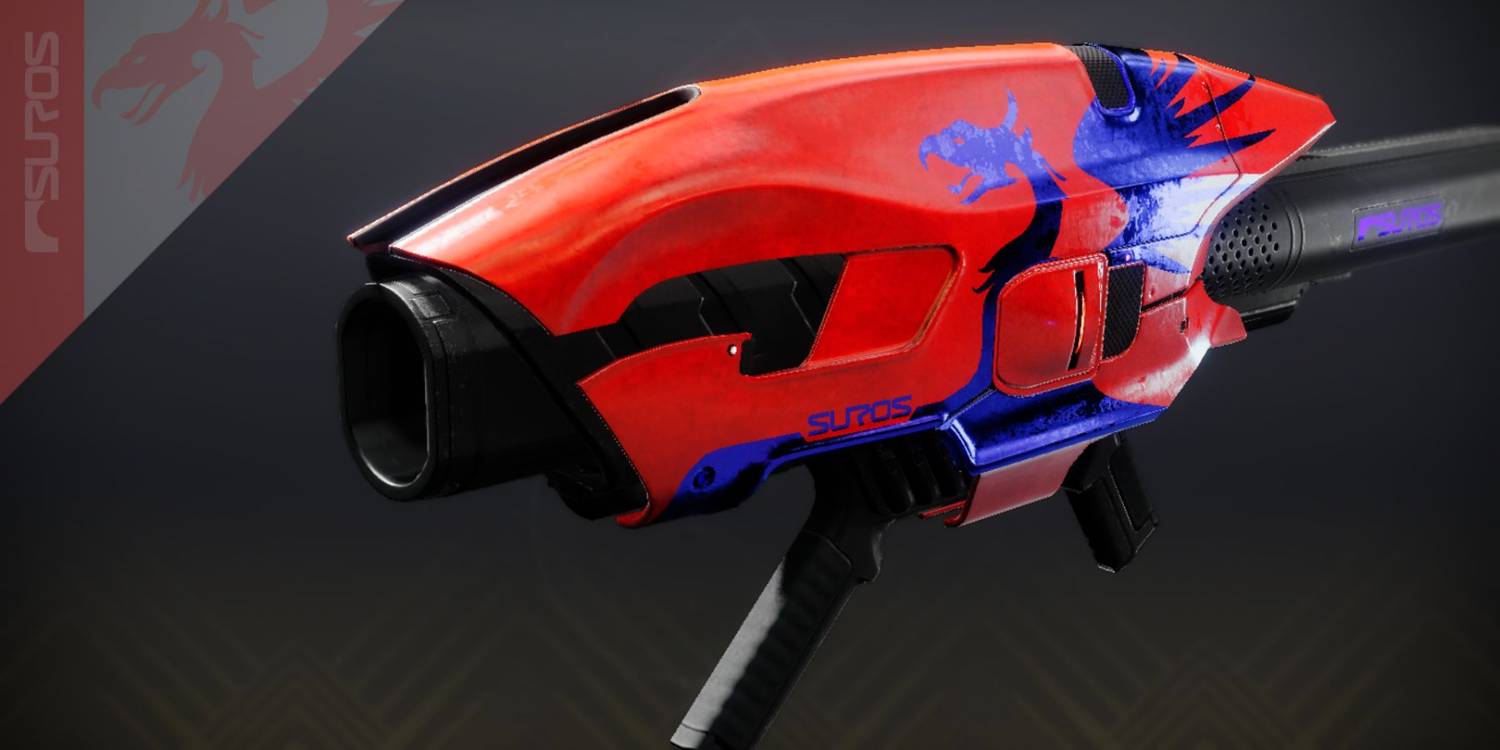 The Blowout is an Arc rocket launcher that was added to the Crucible playlist in season 19. This Suros rocket launcher isn't something to laugh at because it has a large pool of perks, which can make it hard to farm. Lightfall's playlist prize focusing makes it possible to get the perfect Blowout from Lord Shaxx in the long run, as long as the player has the engrams.
The Blowout's first column doesn't have the desired Auto-Loading Holster, but it does have Demolitionist for any builds that focus on grenades and Field Prep for extra ammo. The best choice in the second list is Explosive Light.
Apex Predator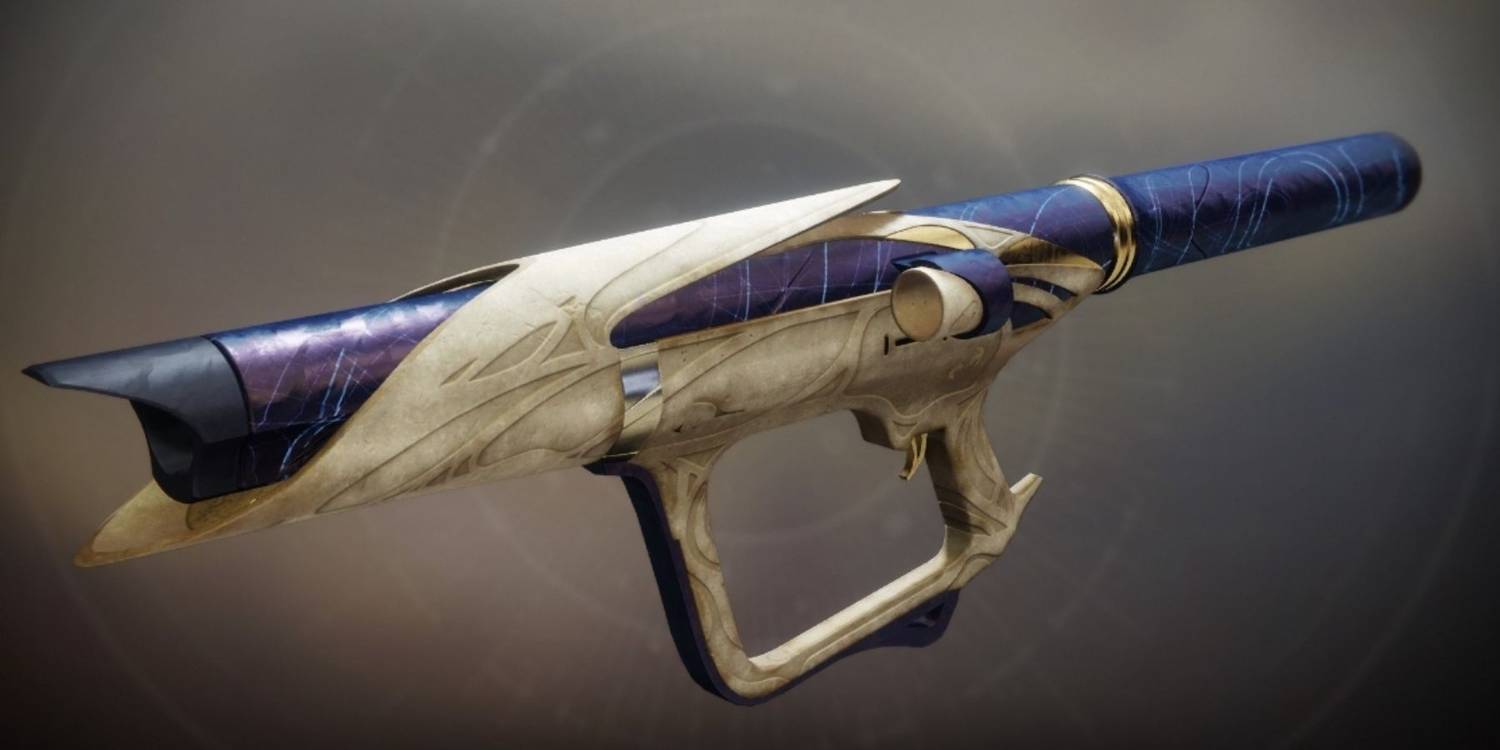 When it comes to Legendary rocket weapons in Destiny 2, the Auto-Loading Holster perk is the best of all. If this perk, or Clown Cartridge, is available, the Legendary rocket launcher is worth a player's time, which is why Apex Predator is on this list.
The Last Wish raid is where you can get the Apex Predator, which is a solar rocket launcher. Players should choose either Ambitious Assassin or Tracking Module from the first column. In the second section, an Auto-Loading Holster is almost a must-have to avoid long reloading times.
Hezen Vengeance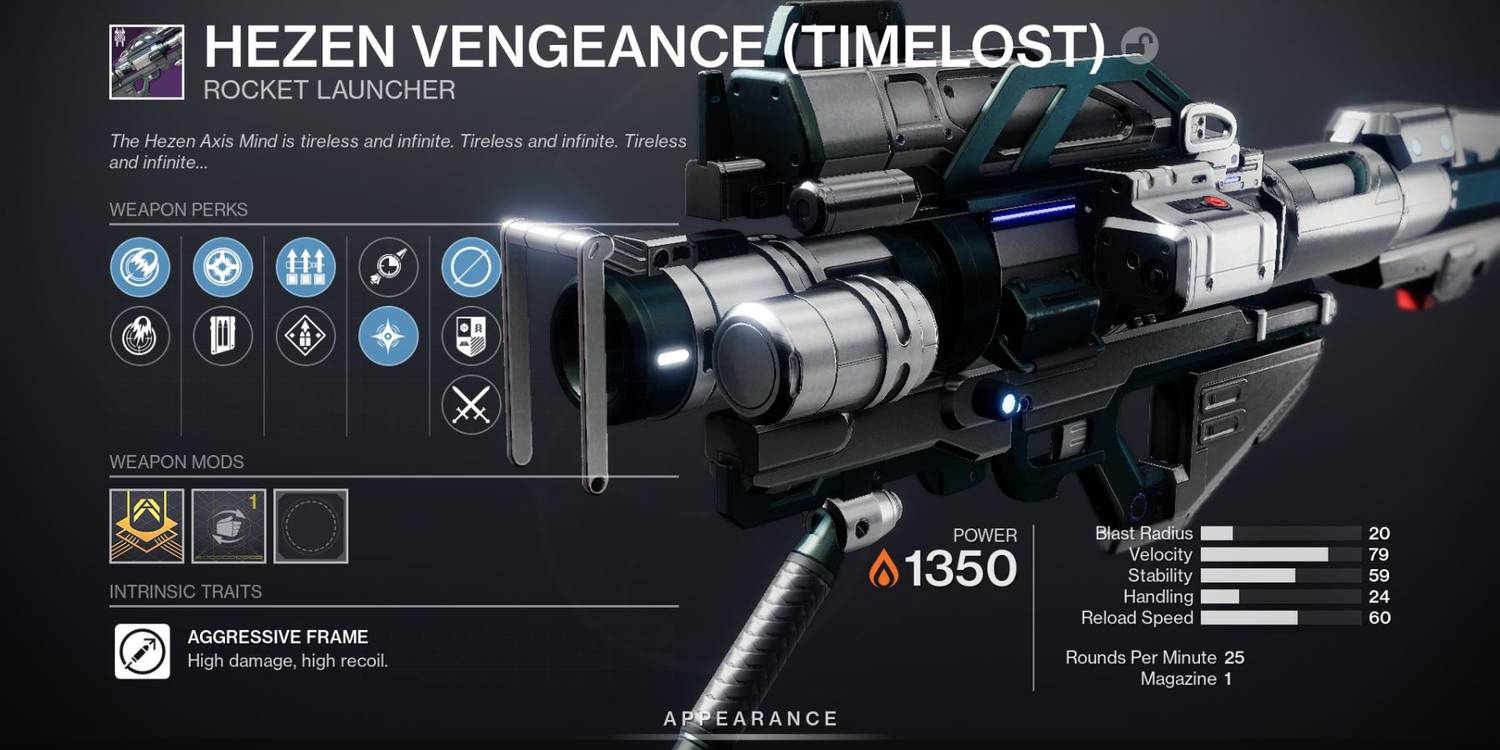 Hezen Vengeance, a legendary rocket launcher that drops from the boxes in the Vault of Glass raid, is a good choice for a rocket launcher that is easy to use but still good. There is also a Timelost form of the Hezen Vengeance with some interesting rolls. So those who are brave enough to try the Master version of the raid should give it a try.
Hezen Vengeance is a Solar rocket launcher with perks like Auto-Loading Holster or Impulse Amplifier, Vorpal Weapon, and Lasting Impression. When fighting harder enemies, these will do the most damage.
Roar Of The Bear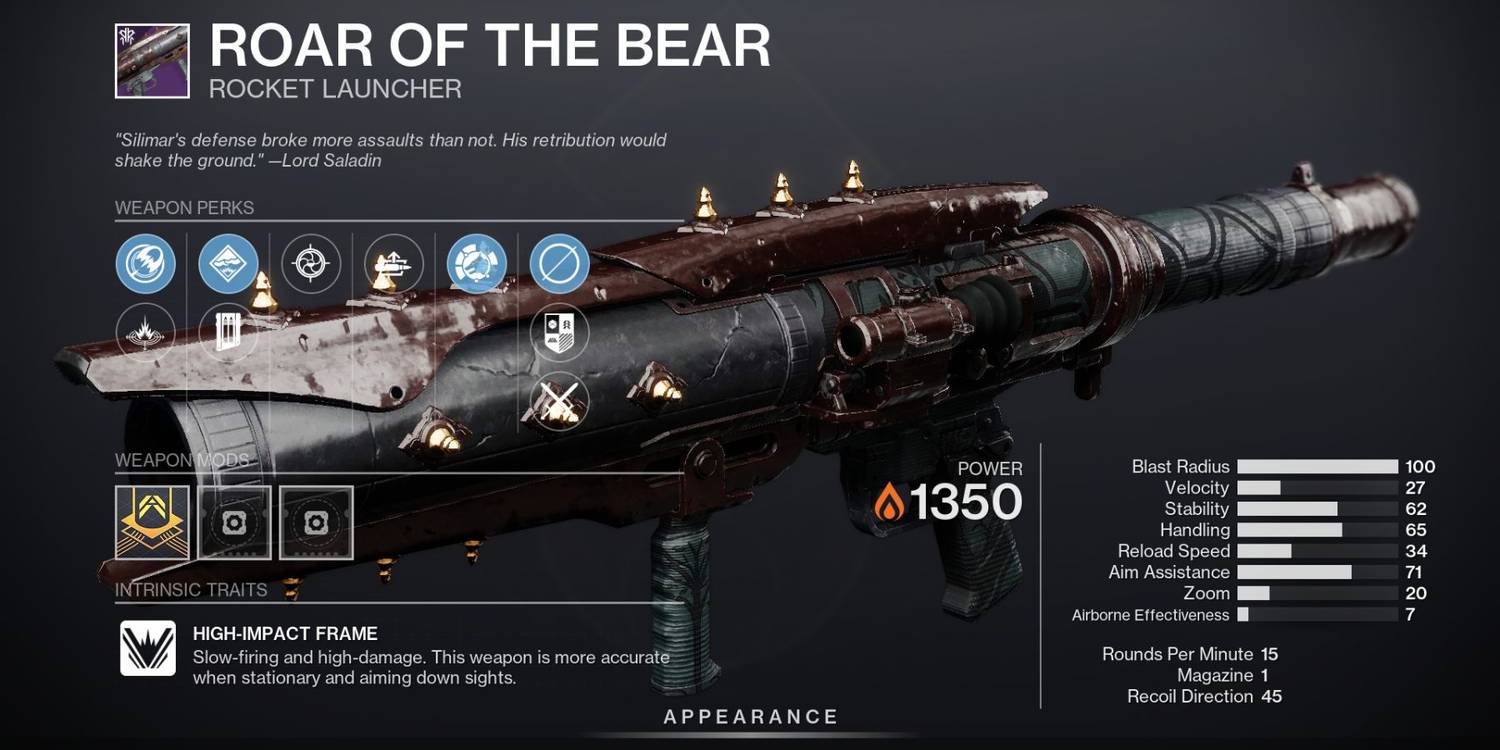 Roar of the Bear is a solar rocket launcher that can be found in the Iron Banner song and can now be focused as of Lightfall. It has a smaller pool of perks than some of the other choices on this list. But it's great for players who can't get Exotics or more exclusive Legendary rockets.
In the first section of Roar of the Bear, you can choose from Demolitionist, Field Prep, or Ambitious Assassin. The first two are the best choices. The second column has Auto-Loading, Chain Reaction, and Cluster Bombs for people who don't use Demolitionist to reload. Players can even choose Incandescent for better ad-clear if they want a more spicy niche pick.
Ascendancy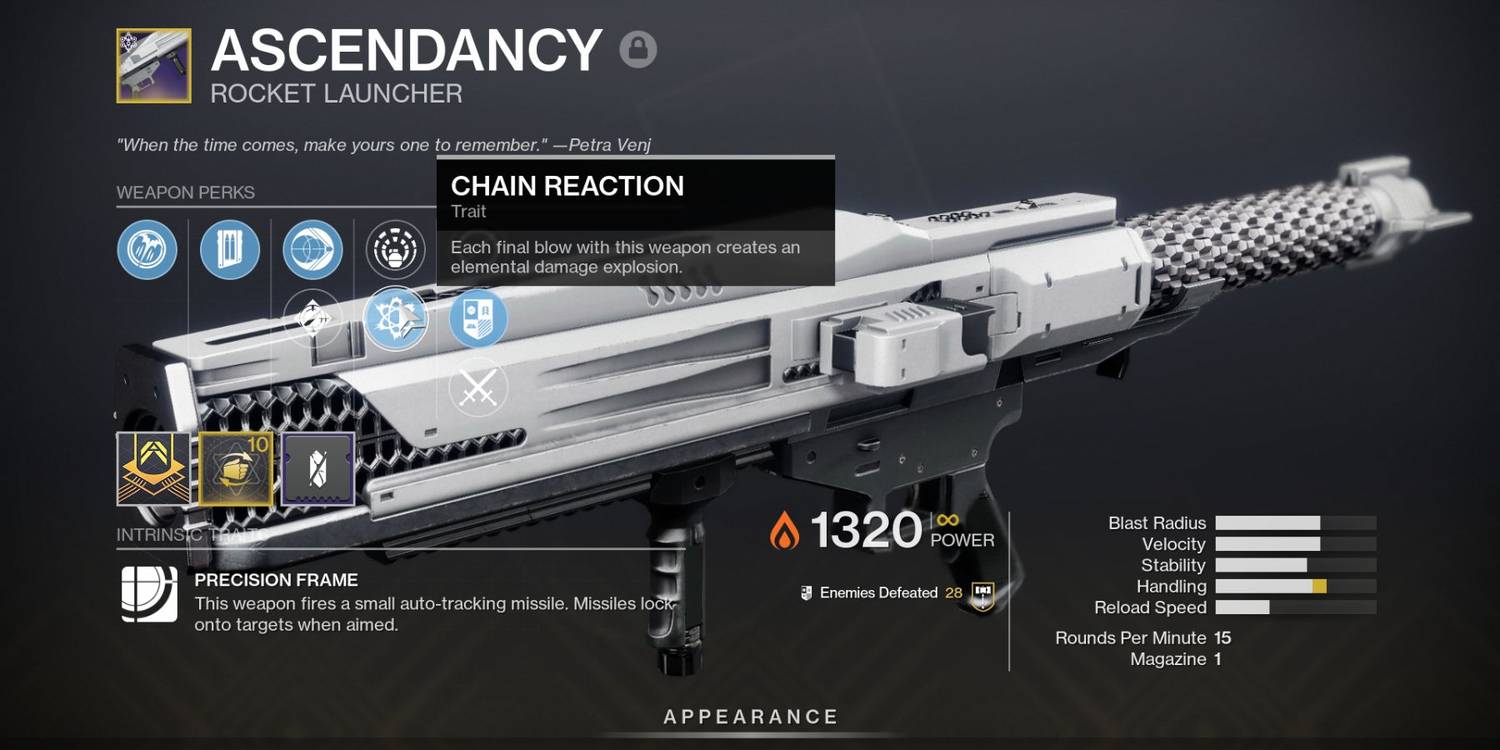 During season 15, the season weapon was called "Ascendancy." The true power of this legendary solar rocket launcher didn't become clear until Gjallarhorn was added to Skibidi Toilet after the 30th Anniversary update. It's a great rocket launcher. Especially now that rockets are in a better spot and the PVE meta isn't as tight.
The best thing about Ascendancy is its benefits. It comes with some of the best rocket launcher upgrades in Destiny 2, like Impulse Amplifier and Explosive Light. These can also be switched around with Chain Reaction and Ambitious Assassin, based on what the player wants. Ascendancy is still for sale at the Monument to Lost Lights. Which is great news for those who missed out on it.
Eyes Of Tomorrow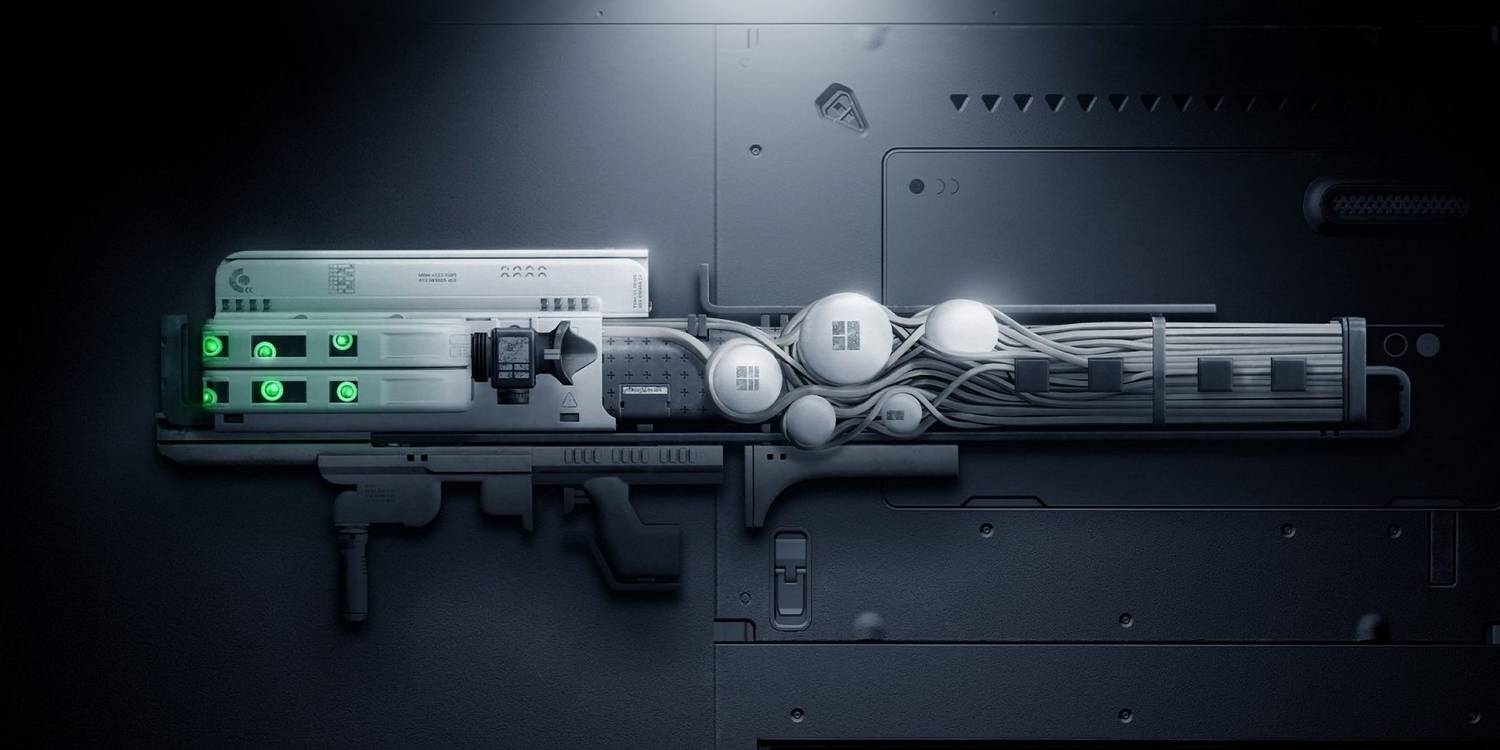 The Eyes of Tomorrow rocket launcher is an exotic rocket launcher that can drop from the final box of the Deep Stone Crypt raid. At first, players didn't care much about this rocket weapon. Most people thought of it as a goofy weapon, but it worked great in Gambit. Because it could lock on to multiple targets with tracking rockets and shoot them down.
But as of season 17, it can do some pretty serious harm. Some players, like Datto, have used the Eyes of Tomorrow in endgame PVE with good success, showing that it can now compete with other rocket launchers. Even though it seems slower and heavier than Gjallarhorn, it could be good.
Palmyra-B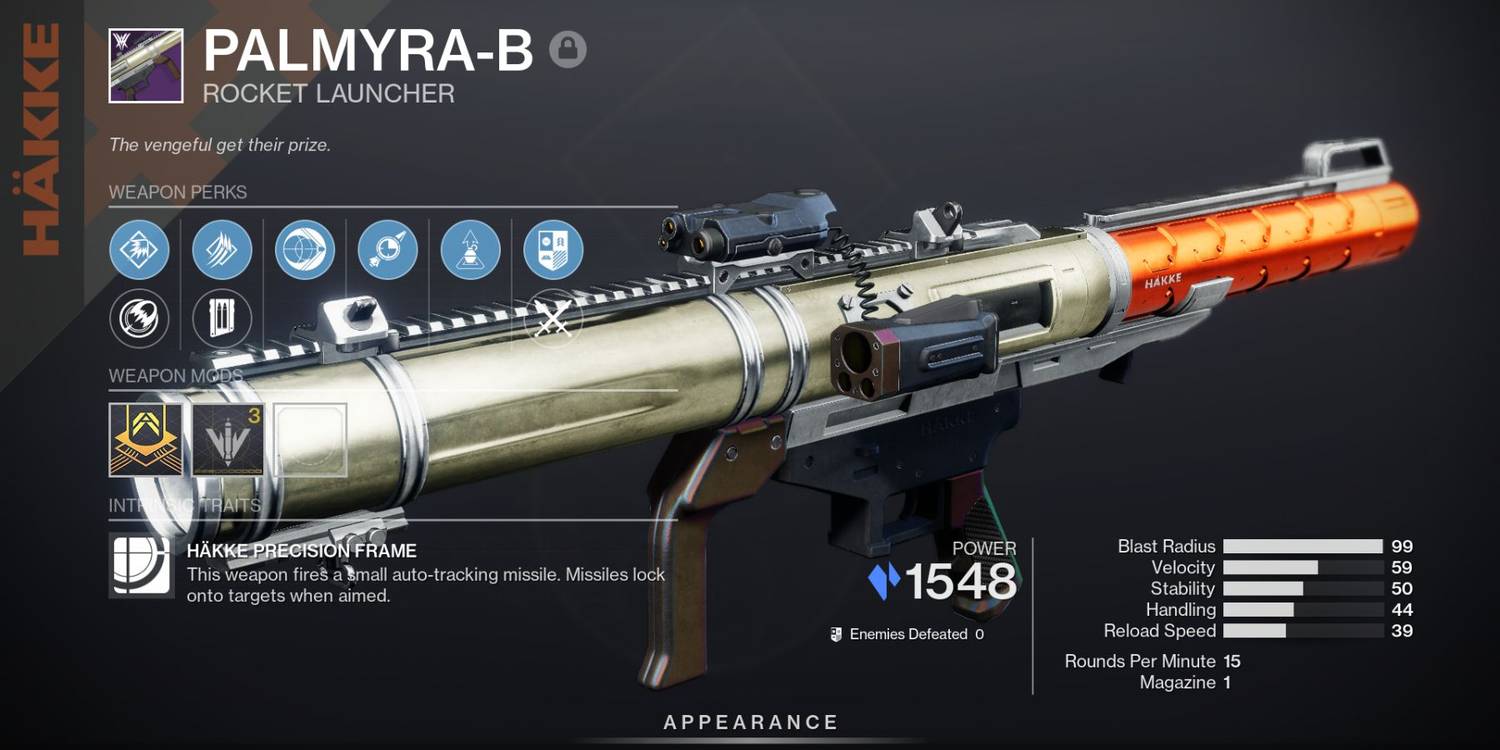 The Palmyra-B is a Hakke rocket launcher that was added early on in The Witch Queen update. It can be made by the player once they have all of its Patterns. It's also worth making because its Enhanced Perks make it a very powerful Legendary rocket launcher, especially when paired with the Gjallarhorn.
Look for perks like Auto-Loading Holster and Explosive Light when you make or even when you just get things from the world. As well as Impulse Amplifier, you can also choose Ambitious Assassin. It doesn't quite beat some of the better Legendary choices on this list. But it will do a good job when paired with a Kinetic like Witherhoard or Izanagi's Burden for boss DPS.
Two-Tailed Fox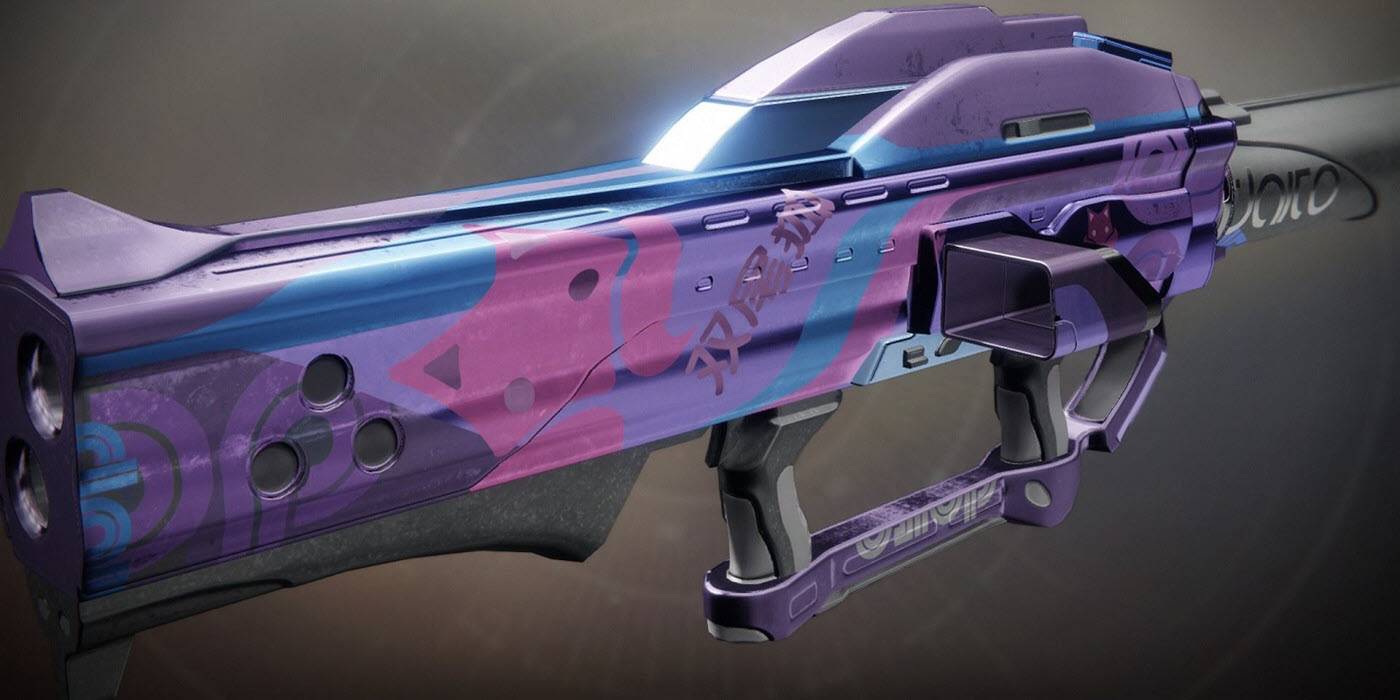 Since Lightfall came out and the weapon got a makeover, Two-Tailed Fox has become incredibly powerful. Each of its rocket types now applies the right elemental debuff to its target. Void rockets now stun enemies, Solar rockets do damage over time, and the Arc rocket. Which can be used when the Catalyst is finished, now jolts enemies.
This is a dream come true for many PVE teams that want a single tool that can remove all of a boss's debuffs. The best combination is to have one person on Two-Tailed Fox and one person on Gjallarhorn to trigger Wolfpack Rounds, while the rest of the team is on Legendary rockets.
Bump In The Night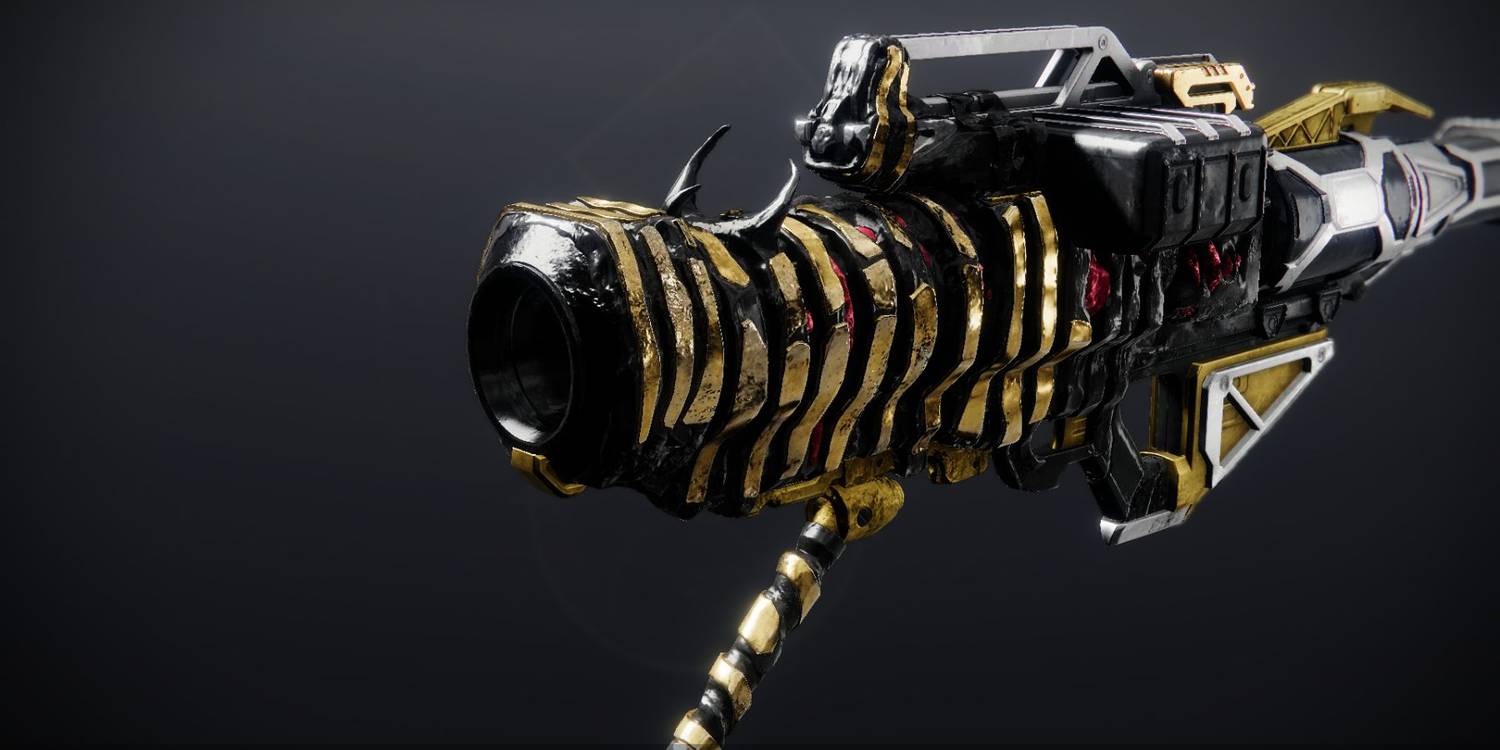 The Bump In the Night Stasis rocket weapon was added to Destiny 2 during the Season of the Haunted. The best thing about this rocket launcher is that players can make it once they have enough patterns to unlock it at the Enclave. Also, it can get Enhanced perks as it levels up.
In Season 20, when it was found that Chill Clip combined with a Gjallarhorn made Bump In The Night a lot stronger and more popular, people went crazy for it. As of Lightfall's release, the best roll is Demolitionist and Chill Clip. Which works best with the standard Starfire Warlock build.
Gjallarhorn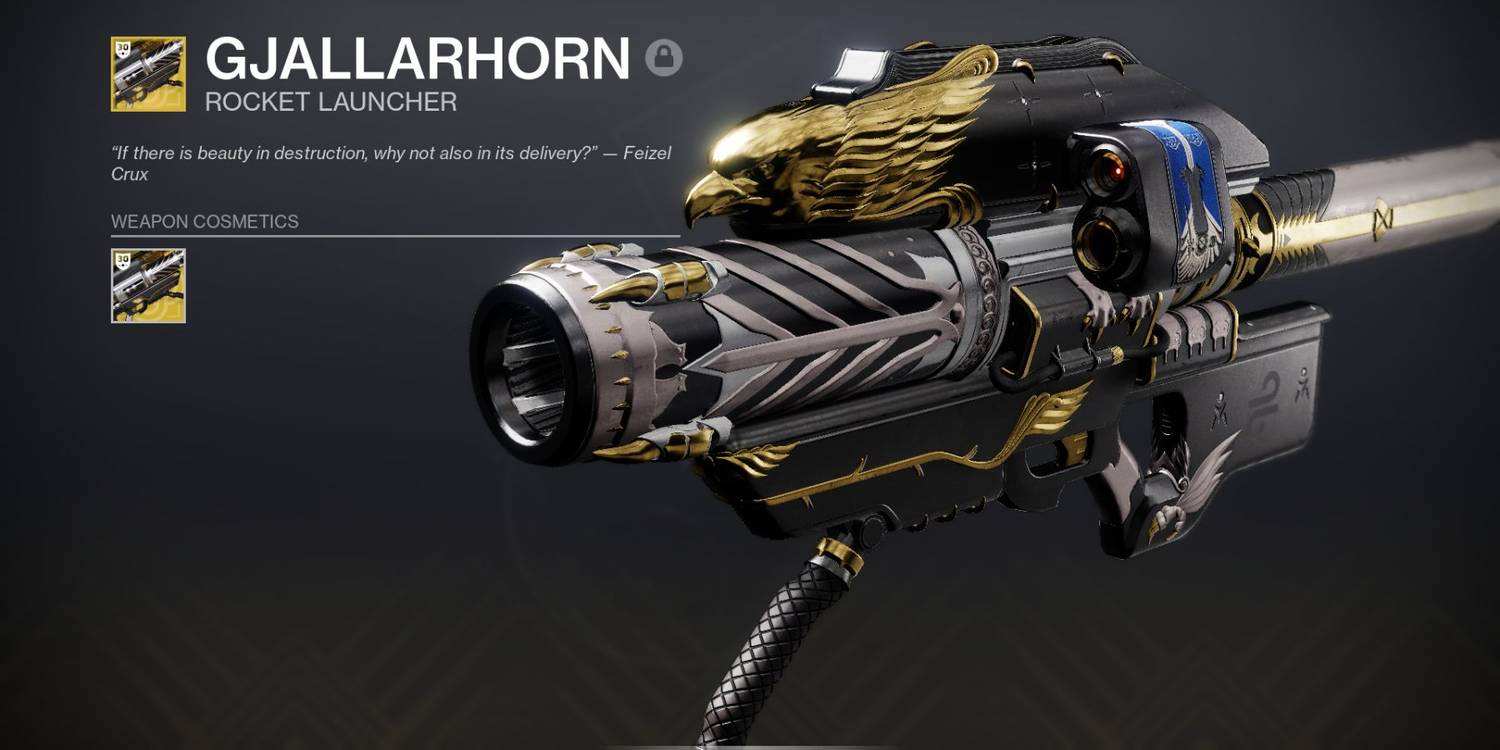 Gjallarhorn is the best rocket launcher in the history of Destiny. So it has to be on any list of rocket launchers. Unfortunately, Gjally has been nerfed a few times since it was added to Destiny 2 in the 30th Anniversary DLC. It isn't quite as strong as it was when it was first added.
Still, fireteams that use rocket launchers for PVE operations need to have Gjallarhorn. Only one person needs to have it equipped for everyone else to get the Pack Hunter perk. This turns the rounds from nearby Legendary rocket launchers into Wolfpack Rounds. Which split into small explosions when they hit something. As of Lightfall, Gjallarhorn is still a must-have for many fireteams. Especially now that linear fusion rifles have been nerfed and rocket launchers have become more strong.
The Hothead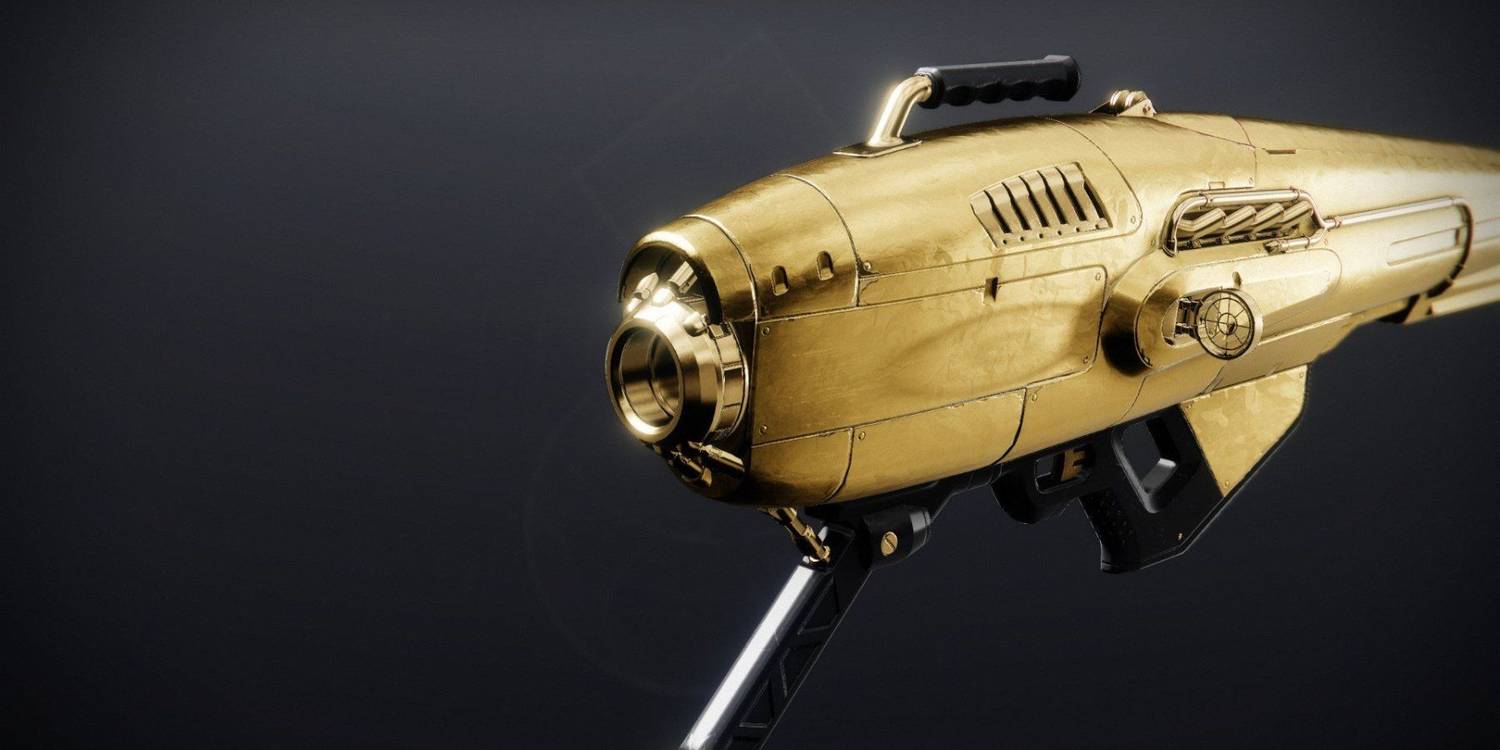 Since Lightfall came out, the Hothead has become the best rocket launcher in terms of damage per second (DPS). If you didn't get the right Adept roll for this Arc rocket launcher in Season of the Haunted, don't worry. Zavala now offers focusing at the Tower. So more players can get The Hothead if they have the engrams for it.
There are two great ways to make the Hothead. Auto-Loading Holster and Explosive Light are the two must-have perks for players who don't use fusion bombs. Starfire Warlocks, on the other hand, can get a lot out of the Demolitionist perk instead of Auto-Loading Holster, which lets them do more damage with grenades in between rocket shots.