Here are the best things that this Terraria mod has changed.
When you put together a team of dedicated coders, artists, playtesters, and even a couple of composers to work on a single, complete Terraria mod, you're going to get something amazing.Yuyutsu's Spirit Mod is the result of all this hard work, and it does taste good.
Spirit Mod has so much material that it almost feels like DLC that Re-Logic would put out and charge for. With over 1,000 things to craft or find, over a dozen bosses and mini-bosses, changes and additions to many game mechanics, and so much more, you can save some time by checking out these eleven best parts of the mod.
A Robust Selection Of Bosses And Mini-Bosses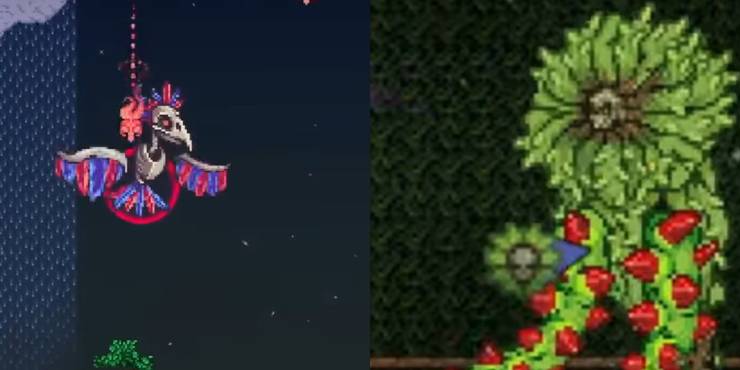 Bosses are a big part of how you play Terraria and how you move forward in the game. If you've beaten the game a few times and things are starting to feel a little samey, adding a bunch of new bosses can't go wrong.
Spirit Mod covers every part of Terraria's development, giving you minibosses, bosses, and event bosses to fight at every stage of the game, whether you're in Pre-Hardmode or Hardmode. So, the next time you play, you'll face a mix of enemies you've seen before and ones you haven't seen before.
New NPCs And Quests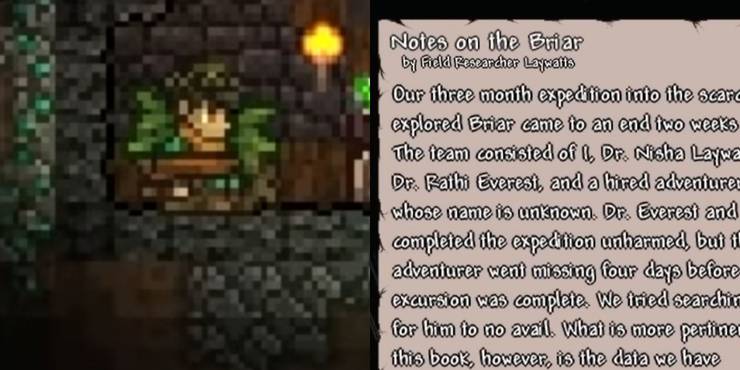 Terraria already has a lot of NPCs, but most of them only do one thing, like heal you to full health or let you buy weapons or things. Spirit Mod does that, but it also adds a well-made system for quests.
For example, the Adventurer NPC will sell you different things, but not all at once. When you get a Quest Book from him, you can start and finish different tasks, some of which have more than one way to do them.
As you finish quests, you'll be able to buy more things that were hidden before.
Custom, Pre-Built Areas And Novel Biomes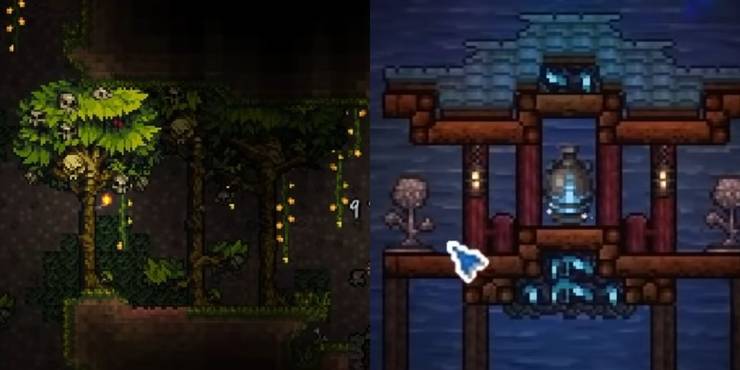 Spirit Mod adds custom-made buildings and biomes to Terraria that make it more fun to explore, whether you're in the sky, on the ground, or underground. Most of these changes are easy to notice, but some can be easy to miss.
The Briar biome and the Dark Sepulchre, Pagoda, and Goblin Tower buildings are hard to miss because they are bigger, more defined, and look different. Fishing Bridges and Bismite Crystal Clusters, on the other hand, are harder to spot because they are not as obvious.
New Buffs And Debuffs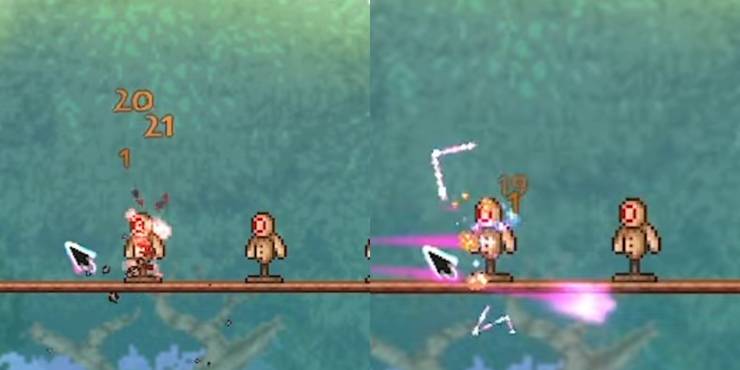 Most Terraria players, especially those who take on optional tasks like Expert mode or Hardcore characters, know what buffs and debuffs do and how useful and dangerous they can be. If you're tired of buffs and debuffs that don't do much, this mod will change that.
With the Spirit Mod, you can get a lot of new buffs from consumables, weapons, summons, and even mounts. There are just as many debuffs as buffs. Some are caused by foes or the environment and can hurt your character, while others are things you can do to your enemies.
Unique Events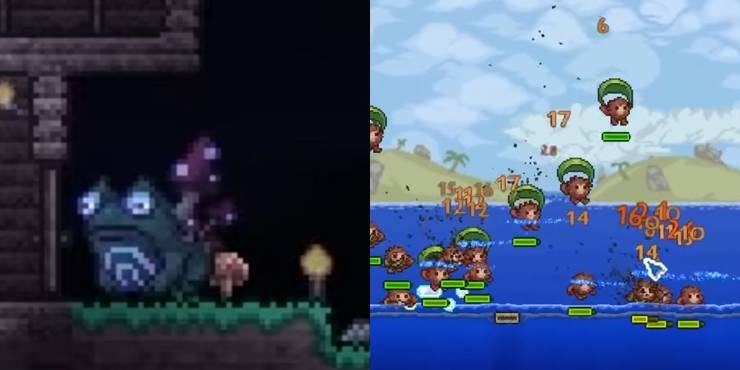 Some of the most memorable parts of playing Terraria are the events. They break up the monotony of things you have to do, like mining or making houses for NPCs, and give you chances to farm for money, items, and other loot.
Spirit Mod adds three new events: the Jelly Deluge, the Mystic Moon, and The Tide. It also adds new drops and game features to vanilla events. So, whether you go to a new or an old event. You're sure to learn something new or get something new.
Glyphs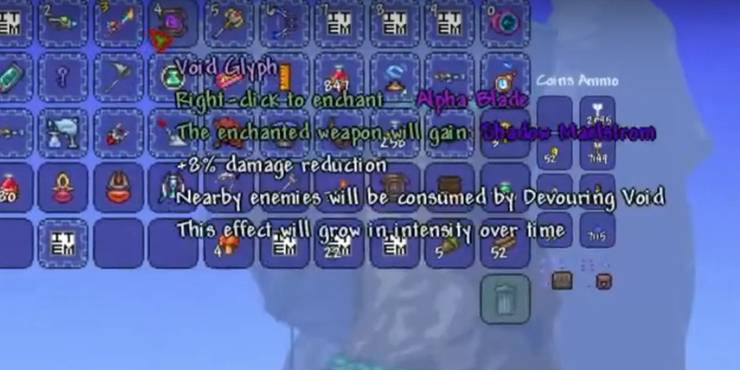 With vanilla gear like the Ancient Chisel, Ankh Shield, and Avenger Emblem, you can improve your mining speed, make yourself immune to some negative effects, and do more damage overall. Spirit Mod, on the other hand, gives you something else to do with the places that equipment takes up.
Glyphs are unique consumables that can be put on tools and weapons to give them special powers without taking up a slot. There are a lot of them, but some examples are the Efficiency Glyph, which makes a tool work better and have a longer range, and the Sanguine Glyph, which gives a weapon the Crimson Bleed and life leech effects.
Mounts; Traveling With Style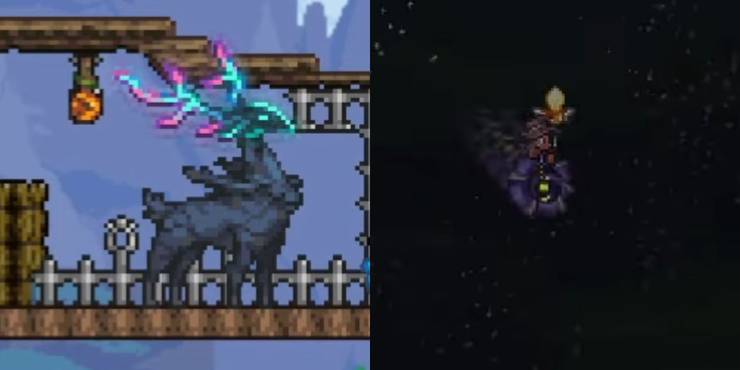 Mounts are a cool way to get around the world and sometimes a silly way to have fun, like using a slime mount to hit terminal velocity as you fall to the underworld. Spirit Mod adds a few new mounts to get, and many of them have special or helpful abilities.
For example, the Crocosaur ride isn't just a cute little dinosaur with a saddle that looks like Yoshi from Super Mario World. He will also bite enemies and hurt them for you. Remember that some mounts are only available in Hardmode, so you'll have to beat Wall of Flesh to get those.
A Heap Of New Accessories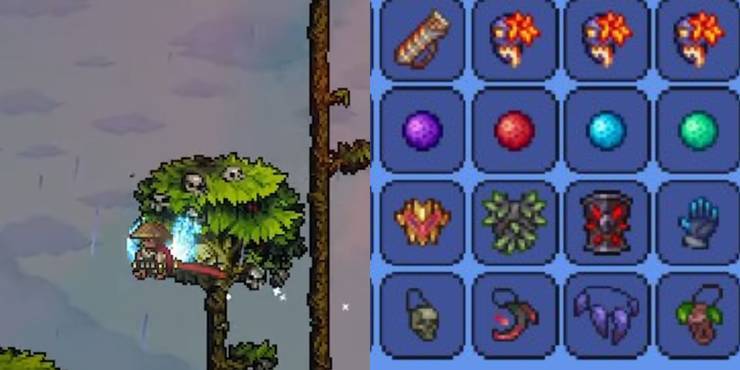 Accessories are the most important part of any Terraria build. They help increase damage, make it easier to move around, and speed up movement, among many other helpful things. Spirit Mod has what you need if you want to feel like you did when you got your first pair of wings or finished your first Ankh Shield.
There are a lot of new basic accessories, like boots, wings, and trinkets that affect life and mana. There are also a lot of unique and unusual things, like the Ace of Hearts, which makes enemies drop hearts when you hit them, or the Mimic Repellent, which keeps you from fishing up mimic crates.
Refreshing Potions And Foods To Make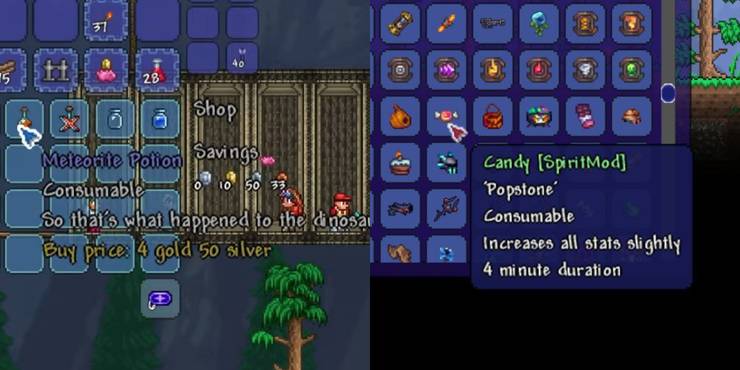 Spirit Mod adds eight new potions that give you access to different buffs. Such as increasing your jump height, damage, and chance to land a critical hit. There is also a chance that a critical hit will give you a curse. When it comes to things you can eat or drink, this mod is split into two groups: food and candy.
Like potions, both groups have a mix of useful and unique effects. Food, like Ice Berries or Sushi, can protect you from getting burned or let you breathe underwater.
Candy gives buffs that last less than five minutes, like increasing your maximum mana, health, or moving speed.
Plenty Of Pets To Choose From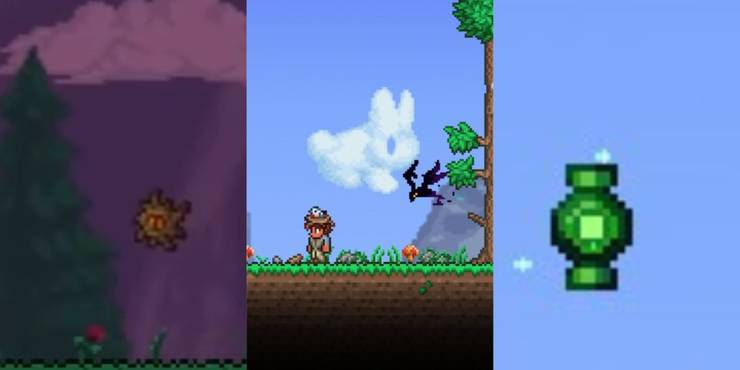 Everyone in the game has their own favorite pet they want to work hard for. Spirit Mod adds 12 new pets to Doodle Cricket. You can make some of them, and others will drop from different enemies.
One of them, though, can only be gotten by doing a job for the Adventurer.
Some pets need items from the mod or enemies that only appear in the mod. But there are a surprising number that can be gotten from vanilla material alone. During the Martian Invasion event, the Support Saucer just has a chance to drop from Martian Officers.
Tools, Weapons, And Armor Galore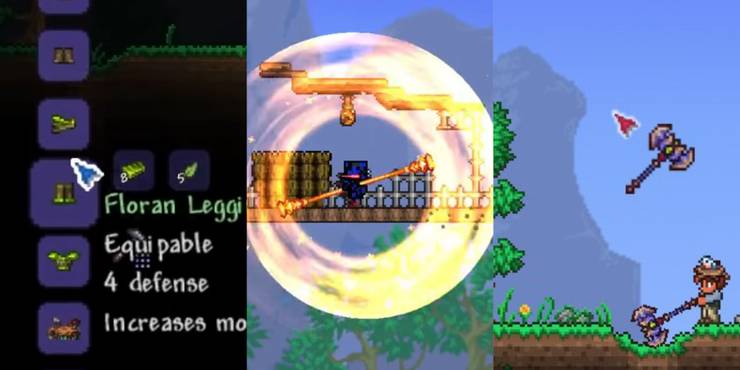 This mod adds almost too many tools, guns, and pieces of armor to count. From new swords, wands, bows, clubs, yoyos, magic guns, boomerangs, and flails to hooks, chainsaws, picks, drills. And armor sets for each class, there is a lot to discover and try out.
There are also tools, weapons, and gear that don't fit into any category, like the Gate Staff, the Cartographer's Map, the Astral Clock, the Mad Hat, the Jellynaut's Bubble, and the Darkfeather Visage. If any of these things interested you, you can be sure that there is a lot more to find and learn about.