The textile industry undeniably holds paramount importance in the economy of any nation. Textiles are not just a mere commodity; they are a fundamental necessity of people, deeply intertwined with the material culture of a place. Whether regarded as a form of artistic expression, a technological achievement, or a cultural symbol, textiles represent a core element of any culture's identity.
the heart of this intricate tapestry lies T & A textiles and hosiery limited information, a company deeply woven into the fabric of economic growth and social vitality. Much more than a producer of textiles, T & A Textiles And Hosiery Limited embodies the essence of a fundamental human commodity, enriching cultures while contributing significantly to income generation, foreign currency earnings, and the sustained economic development and growth of the regions it serves.
The textile industry is more than just a sector of production; it is a tapestry woven into the fabric of human existence. From the intricate patterns of traditional garments that tell stories of heritage and customs to the cutting-edge innovations in smart textiles that push the boundaries of technology, textiles are a canvas upon which both tradition and progress are painted. The textile industry has a significant impact on global economies in several ways:
Employment:
Employment in the textile industry extends far beyond just job creation; it fosters livelihoods and sustains communities. Particularly in developing nations, where labour-intensive textile production is prevalent, this industry serves as a lifeline, offering millions of individuals an opportunity for gainful employment.
From the hands that cultivate and harvest cotton to the skilled artisans who weave intricate patterns and the factory workers responsible for crafting garments, the textile sector forms a vast network of labour. It not only empowers the workforce but also contributes to skill development and economic stability, thus playing a pivotal role in socio-economic progress.
Contribution to GDP:
Textiles are a significant contributor to the Gross Domestic Product (GDP) of numerous nations. This sector's economic impact is substantial as it encompasses multiple stages, from raw material production to the sale of finished textiles and apparel.
The revenue generated through textile production and exports bolsters a country's GDP, thereby fueling economic growth. Moreover, the textile industry's value extends beyond monetary figures; it often serves as a barometer of a nation's industrial and trade prowess, underlining its capacity to participate in the global economy competitively. In essence, textiles represent a cornerstone of economic vitality for many countries, shaping their fiscal landscapes.
Trade:
The textile industry stands as a global trade powerhouse, with textiles ranking among the most traded commodities worldwide. This industry's pivotal role in international trade extends to countless nations that leverage textile exports as a means to enhance their trade balances. Textiles, being in constant demand, facilitate cross-border commerce and contribute significantly to a country's export earnings.
Moreover, the textile trade is emblematic of the interconnectedness of economies, where the fabric of global trade intertwines nations, fosters cooperation, and underscores the importance of textiles as a driving force behind economic globalisation.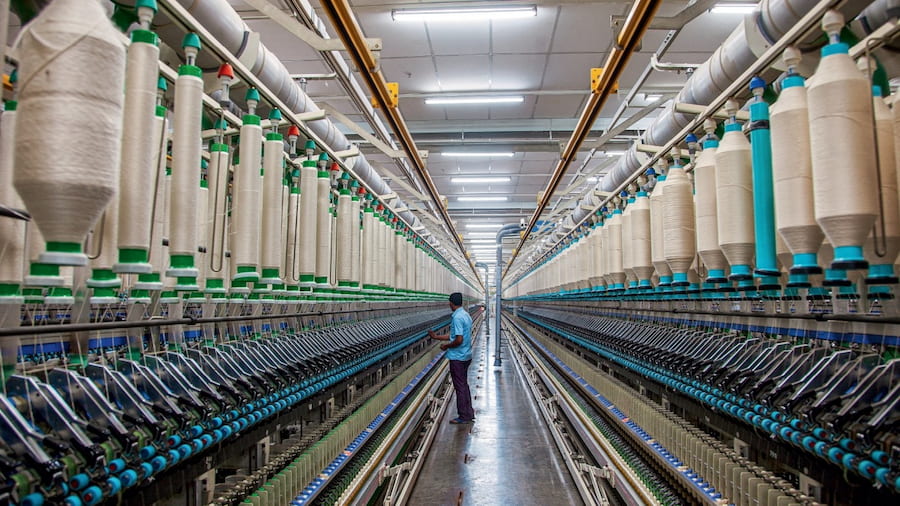 Supply Chain Effect:
The intricate supply chain of the textile industry is a complex web that spans from the cultivation of raw materials to the final production of garments. This expansive network not only fuels the textile sector itself but also generates a ripple effect throughout the broader economy. It creates a wealth of business opportunities, from the agricultural sector that grows cotton to the manufacturers of machinery used in textile production.
Additionally, it provides a lifeline for ancillary industries such as transportation and packaging, which are essential for the movement and presentation of textile products. Thus, the textile industry's supply chain catalyses economic growth and diversification across various sectors.
Economic Development:
The textile industry's role in economic development extends beyond its immediate impact. It acts as a foundational building block upon which countries can construct more diversified and advanced manufacturing capabilities. By mastering the intricacies of textile production, nations acquire essential skills in manufacturing, quality control, and supply chain management.
These skills can then be leveraged to expand into other industries, fostering a broader industrial base and driving economic development. In essence, the textile sector has the potential to ignite a chain reaction of growth, positioning countries on a trajectory towards industrialisation and economic prosperity.
Global Value Chains:
Participation in global value chains (GVCs) within the textile industry opens doors to an intricate network of global economic interactions. While it allows countries to specialise in their strengths and benefit from cost efficiencies, it also necessitates effective coordination, risk management, and adaptation to evolving market dynamics.
For some economies, integration into GVCs is a strategic avenue to harness international trade, technology transfer, and market expansion. Yet, it underscores the importance of maintaining competitiveness, innovation, and adaptability to navigate the ever-evolving landscape of global textile value chains effectively.
Also, read this: What is the History of the Textile Industry in the UK?