In today's fast-paced world, where convenience is paramount, fast food delivery apps have become essential tools for satisfying our cravings and Burger takeaways from the comfort of our homes. These apps offer many options for food lovers, from ordering delicious meals to enjoying hassle-free home delivery.
This comprehensive guide will explore the top fast food restaurant delivery apps available, each offering unique features to enhance your dining experience. Join us as we delve into the world of these convenient apps and discover which suits your preferences and cravings.
Zomato:
Zomato, founded initially as 'Foodiebay' in 2008, has emerged as a global leader in the fast food delivery industry. Starting in India, Zomato has expanded its reach to 24 countries and over 10,000 cities worldwide. Notably, in 2021, Zomato achieved a 39x oversubscribed IPO with a remarkable $46 billion shareholder bid.
Zomato has Seamless information sharing, akin to a social network for food enthusiasts.
Intuitive and extensive search capabilities.
User-friendly sorting options based on individual preferences.
A robust knowledge base to address customer queries.
Streamlined review features for informed choices.
Comprehensive user profiles.
Uber Eats
Uber Eats has established a global presence in over 10,000 cities across 90 countries in 2023. Its market dominance has led to collaborations with numerous restaurants, ensuring many choices for consumers and fostering continuous growth.
Uber eats has Brand recognition and convenience.
Group ordering for cost-sharing among friends and colleagues.
"Schedule Later" feature for delayed deliveries.
Quick and easy re-ordering of favorite meals.
FoodPanda:
FoodPanda, operational in 41 countries, is a global giant in the food delivery industry. Headquartered in Berlin, this platform has partnered with nearly 40,000 local restaurants, guaranteeing prompt food delivery services.
In foodpanda, There is a vast selection of restaurants to order from.
Access to rebates and special offers.
Effortless payment options.
Swiggy:
A top-rated app based in Bengaluru, India, has earned its reputation as the country's No.1 online food delivery app. Boasting close to 1,500,000 downloads on the Google Play store, Swiggy caters to almost every city in India.
Swiggy has Seamless GPS for ordering from nearby restaurants.
A keen focus on the Indian market.
Wallet feature for easy and secure transactions.
Grubhub:
Grubhub, with its extensive network of over 800 U.S. cities and 30,000 restaurants, stands out as one of the best food-ordering apps. Founded in 2004, Grubhub's early entry into the market allowed it to establish a wide range of partnerships and maintain its success.
Grubhub has Exceptional 24/7 customer support.
Enhanced filtering and search capabilities.
Convenient saving of "top picks" for easy re-ordering.
Abundance of coupons and discounts.
Deliveroo:
Deliveroo, operates in over 200 cities and is the preferred choice for food delivery in Europe. It enables customers to order from both popular restaurants and those without traditional dining setups. Customers pay based on their orders, while restaurants pay a commission.
Deliveroo has A diverse range of restaurant options, including non-traditional choices.
Access to coupons and discounts.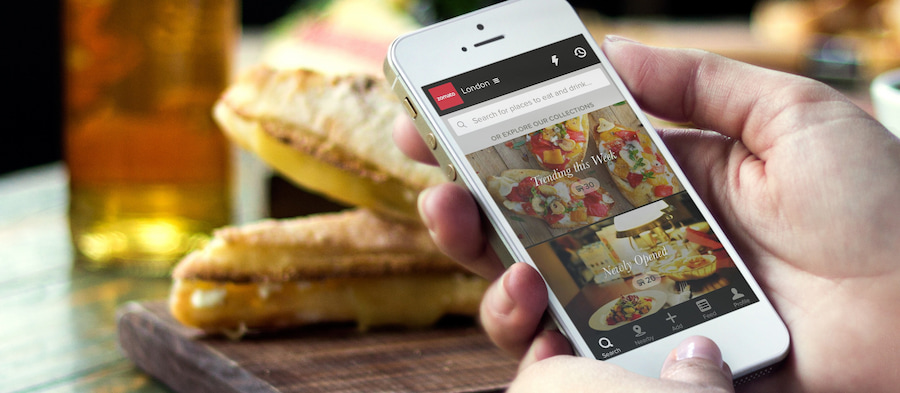 Domino's Pizza:
Domino's Pizza is a renowned pizza delivery company known for its world-class app. While exclusively delivering its products, it offers a superior user experience for customizing and ordering meals.
Domino's Pizza Clear visuals for easy ordering.
Extensive customization options for toppings and modifications.
Detailed order tracking showcasing each step in the process.
Just Eat Takeaway:
Just Eat Takeaway is a European food delivery app established in 2001. Partnering with over 82,000 restaurants, it generates revenue through commissions.
Just eat takeaway has Straightforward and streamlined interface.
Effective search features, Abundance of coupon codes.
DoorDash:
DoorDash is one of the world's established food delivery apps, serving over 300 cities in 32 markets. It has earned a reputation for its commitment to offering quality food, punctual delivery, and high customer satisfaction. Notably, it secured a deal with Little Caesars Pizza, marking the first time in its 60-year history that the chain offered delivery through a third-party service.
Doordash has Dedicationfor providing high-quality food.
Reliable on-time delivery.
Exceptional customer satisfaction.
Postmates:
Postmates, available in over 90 cities across the United States, stands out for its versatility. In addition to restaurant food, Postmates handles grocery deliveries and other orders.
Flexibility, allowing users to order more than just restaurant food.
Postmates has Clean and user-friendly interface.
Strong global branding.
Conclusion
These fast-food restaurant delivery apps have revolutionized how we enjoy our favorite meals. With their convenient features, wide restaurant selections, and easy-to-use interfaces, they cater to diverse tastes and preferences.
Whether you're craving international cuisine or a classic pizza, an app on this list will satisfy your hunger and make dining at home a delightful experience. So, download your preferred app and embark on a culinary journey without leaving the comfort of your home.
Also, read this: Which amongst the assortment of Mobile Apps is for you?