Masalas, those enchanting blends of spices and herbs, hold a paramount role in the culinary world, imparting a captivating symphony of flavours to our taste buds. Among the myriad food masalas that grace our kitchens, one stands out for its ability to transform ordinary ingredients into a delectable masterpiece – fish curry masala.
This exceptional blend not only adds depth and character to seafood dishes but also encapsulates the essence of coastal cuisine. With just a pinch of Fish Curry Masala, you embark on a journey to distant shores, where the scent of the ocean mingles with the richness of spices, creating a sensory experience like no other.
In the diverse tapestry of global cuisines, food masalas are the threads that weave together stories of tradition and innovation. They invite you to explore new horizons and celebrate the familiarity of home-cooked meals. So, whether you're savouring a spicy vindaloo or a fragrant biryani, remember that food masalas are not just ingredients; they are the heartbeats of flavour that make every meal a culinary adventure. They add a spicy and tasty touch to food through various mechanisms:
Enhance Flavour:
Spices are renowned for their ability to enhance the taste and essence of food. Even a small amount of spice can turn ordinary ingredients into a delightful and fragrant meal. What makes spices exceptional is that they infuse rich flavours into dishes without introducing any extra calories, fat, sugar, or salt.
Furthermore, spices introduce a range of flavours to dishes, which not only amplifies their complexity but also harmonises\ or contrasts with the existing tastes. This complexity arises from the combination of diverse spices and herbs within food masalas, providing a multi-layered depth to your culinary creations.
Aroma:
Spices are generally packed with robust flavours and possess a potent taste and aroma, making them quite impactful in small quantities. The key is to use them judiciously in your cooking, aiming to enhance the overall character of the dish rather than overwhelming it. Additionally, when spices are heated during cooking, they release aromatic compounds that elevate the entire sensory experience of the meal. These enticing aromas play a crucial role in making your dish not only delicious but also enticing to the senses.
Change Or Enhance Colour:
When dining at an Indian restaurant, you've probably observed that numerous dishes boast striking hues of deep yellow, vibrant orange, or rich red. This captivating visual appeal is attributed to the inclusion of specific spices frequently used in Indian cuisine, notably turmeric and paprika. These spices not only infuse flavour but also play a vital role in enhancing the visual allure of the dishes. Their ability to add vibrant colours transforms ordinary meals into visually enticing culinary experiences, enticing both the eyes and the palate.
Heat And Spice:
The intensity of heat in various spices, such as chilli powder or cayenne pepper, can significantly impact the spiciness of your dishes. It's crucial to be mindful of the heat levels in these spices and tailor their usage to suit your taste preferences.
It's worth noting that even a small quantity of these potent spices can go a long way, so exercise caution when incorporating them into your recipes. While spices like chilli powder and red pepper flakes bring a fiery heat, others like black pepper or cloves introduce a milder, warming spiciness that enhances the overall flavour profile of your culinary creations.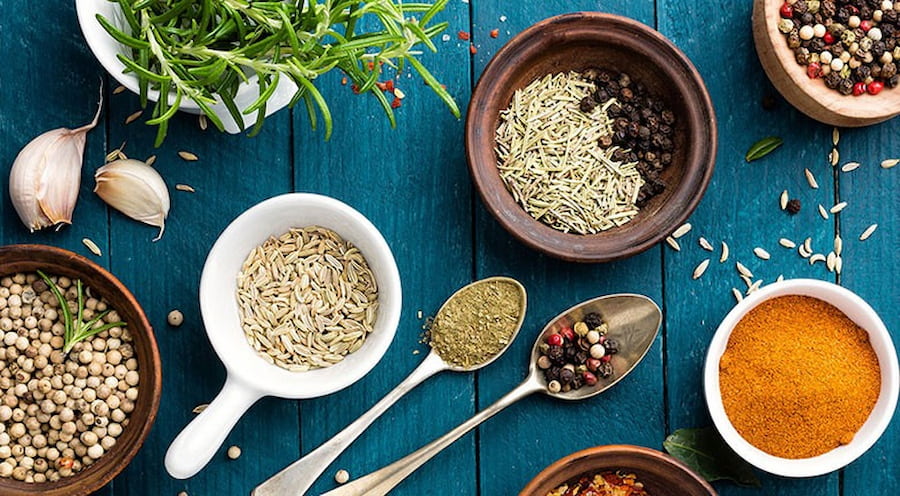 Balance:
Achieving balance in masalas is an art in itself. Properly balanced spice blends aim to create a harmonious symphony of flavours, where no individual taste overpowers the others. It involves the meticulous combination of spices, herbs, and seasonings in precise proportions. A well-balanced masala ensures that the sweetness, spiciness, bitterness, and umami elements complement each other, resulting in a culinary masterpiece.
This balance is not only pleasing to the palate but also allows the full spectrum of flavours to shine in perfect harmony, enhancing the overall enjoyment of the dish. The art of balancing food masalas is a testament to the skill and expertise of chefs and home cooks alike in creating truly memorable meals.
Regional Variations:
Regional variation in spice blends is a fascinating aspect of global cuisine. Different cultures and culinary traditions have developed their unique masala blends, resulting in a rich tapestry of flavours. For instance, Indian cuisine boasts a vast array of food masalas like garam masala, while Middle Eastern cuisine features Ras el Hanout.
Mexican cuisine celebrates the complex flavours of chilli powder and cumin, and Chinese Five-Spice powder is iconic in Asian cooking. These diverse masala blends reflect the geography, history, and available ingredients of each region, offering an exciting journey for the taste buds. They are a testament to the culinary creativity and cultural richness that makes global cuisine so captivating and diverse.
Overall, Masalas serve as the heart of culinary traditions, achieving the perfect blend of spice, flavour, and aroma. They elevate dishes, leaving a lasting, delicious, and memorable impression, whether subtly nuanced or boldly intense.
Also, read this: 9 Ways to Manage Food Allergies of Your Kid