The landscape of employment has shifted, and the allure of remote work has never been stronger. As individuals seek flexibility, autonomy, and the ability to work from anywhere, the demand for remote jobs has skyrocketed. 
But what if you're new to the remote work field and don't have traditional experience? Fear not – the digital age has opened up avenues for remote jobs without experience.
In this guide, we'll delve into strategies that empower you to skill up, log in, and embark on a remote career journey.
Embrace the Power of Online Learning:
Remote work thrives on digital skills. Leverage online learning platforms such as Coursera, Udemy, and LinkedIn Learning to acquire relevant skills. From digital marketing to coding, these platforms offer affordable courses that can enhance your qualifications.
Highlight Transferable Skills:
While you may not have remote-specific experience, you likely possess transferable skills. Communication, time management, problem-solving, and adaptability are valuable skills that can be applied to remote roles.
Craft a Compelling Resume:
Your resume is your digital introduction. Tailor it to highlight your transferable skills, online courses, and any relevant freelance work or personal projects you've undertaken. Focus on your capacity to work independently and manage tasks remotely.
Create a Stellar Online Presence:
Build a professional online presence through platforms like LinkedIn. Showcase your skills, share insights in your field, and connect with professionals to expand your network and enhance your credibility.
Utilize Freelancing Platforms:
Freelancing platforms like Upwork, Freelancer, and Fiverr offer opportunities to showcase your skills through freelance projects. These platforms can help you gain experience, build a portfolio, and earn a reputation even without traditional employment.
Volunteer or Intern Virtually:
Consider virtual internships or volunteer roles in your desired industry. While unpaid, these opportunities allow you to gain real-world experience, build connections, and demonstrate your commitment to remote work.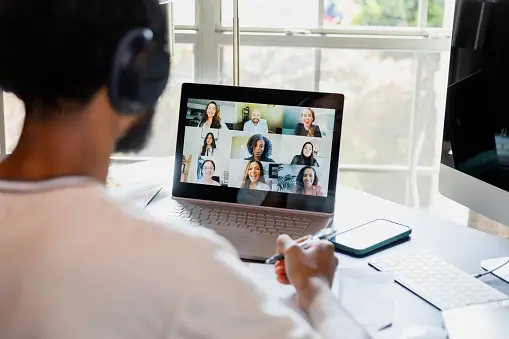 Network Virtually:
Networking is crucial in any job search. Join online forums, social media groups, and platforms like LinkedIn to connect with professionals in your field. Engage in discussions, ask questions, and establish relationships.
Customize Your Job Search:
Tailor your job search to entry-level remote positions that value skills and potential over extensive experience. Look for remote customer service roles, content creation opportunities, virtual assistants, and entry-level digital marketing positions.
Craft a Compelling Cover Letter:
Your cover letter is a chance to showcase your enthusiasm and skills. Explain why you're interested in remote work, highlight your strengths, and explain how your abilities can contribute to the success of the company.
Prepare for Virtual Interviews:
Remote job interviews may be conducted virtually. Familiarize yourself with video conferencing tools, dress professionally, and practice answering common interview questions in a virtual setting.
Stay Resilient and Persistent:
Finding remote jobs without experience may require patience. Rejections are part of the journey, but staying persistent, continuously learning, and adapting your approach will lead you closer to success.
Leverage Temp or Contract Opportunities:
Temporary or contract remote roles can provide valuable experience and exposure. These positions offer a foot in the door and a chance to prove your capabilities to potential employers.
List of remote jobs without experience:
Here's a list of remote job opportunities that you can consider even if you don't have prior experience:
Virtual Assistant:

Provide administrative support, manage emails, schedule appointments, and handle various tasks for businesses.


Data Entry Specialist:

Input and organize data, maintain databases, and perform basic data-related tasks remotely.


Online Survey Taker:

Participate in online surveys and provide feedback to companies and research organizations.


Content Writer:

Write articles, blog posts, website content, and marketing materials for businesses and websites.


Social Media Manager:

Manage and curate social media profiles, create content, engage with followers, and analyze metrics.


Customer Service Representative:

Provide customer support and assistance via phone, email, or chat from a remote location.


Freelance Graphic Designer:

Design graphics, logos, and visuals for websites, marketing materials, and more.


Online Tutor/Teaching Assistant:

Assist students in various subjects or skills through virtual classrooms or tutoring platforms.


Virtual Call Center Agent:

Handle incoming and outgoing calls for companies, addressing inquiries and assisting customers.


Online Moderator:

Monitor online forums, communities, and social media platforms to ensure appropriate content and interactions.


Transcriptionist:

Convert audio or video recordings into written transcripts for businesses and organizations.


Remote Data Analyst:

Analyze data, create reports, and extract insights for businesses using available tools.


Freelance Writer/Blogger:

Create content, blog posts, or articles for websites and businesses on a freelance basis.


E-commerce Assistant:

Assist in managing online stores, updating product listings, and handling customer inquiries.


Remote Research Assistant:

Assist researchers in gathering and organizing data, conducting literature reviews, and more.


Virtual Recruiting Assistant:

Support the recruitment process by sourcing candidates, scheduling interviews, and maintaining records.


Online Language Tutor:

Teach languages to individuals or groups remotely through language learning platforms.


Online Moderator:

Monitor and manage online communities, ensuring that discussions are respectful and on-topic.


Email Outreach Coordinator:

Assist in outreach campaigns, sending and managing email communications.


Remote Content Reviewer:

Review and evaluate online content to ensure it meets specific guidelines and standards.


Virtual Event Support:

Assist in planning and managing virtual events, webinars, and conferences.


Online Tech Support:

Provide basic technical assistance and troubleshoot issues for software, apps, and devices.


Online Sales Support:

Assist sales teams by handling inquiries, providing information, and supporting the sales process.


Virtual Administrative Assistant:

Provide remote administrative support, manage calendars, and handle tasks for businesses.


Freelance Social Media Content Creator:

Create and curate content for social media platforms on a project basis.
Keep in mind that while these roles may not require prior experience, having relevant skills, a positive attitude, and a willingness to learn can greatly enhance your chances of success in remote job opportunities.
Conclusion:
Remote jobs are not exclusive to those with experience – they are attainable for individuals willing to skill up, log in, and showcase their potential. 
By embracing online learning, highlighting transferable skills, crafting a compelling resume and online presence, utilizing freelancing platforms, networking virtually, customizing your job search, preparing for virtual interviews, and staying resilient, you can unlock remote career opportunities that align with your aspirations. 
The digital age has democratized the job market, and remote work is no longer a distant dream but an achievable reality for everyone willing to take the journey.